Discover the brand and the designer behind it
About Henriette Øst Hansen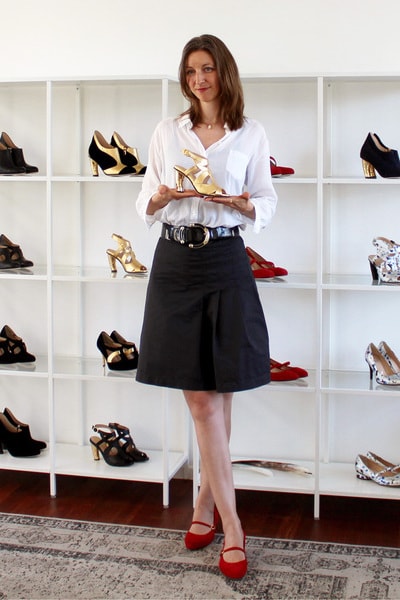 Henriette Øst Hansen is a Danish luxury shoe brand based in Copenhagen, Denmark; it was established by designer Henriette Øst Hansen and pre-launched its debut collection in December 2017.
Henriette Øst Hansen seamlessly combines Danish design sensibilities with bespoke Italian craftsmanship.
As a fashion design graduate with a passionate interest in art and history, Henriette Øst Hansen honed her craft of shoe-design while working in Italy and Denmark. Her experience spans a wide spectrum of design processes – from Bruno Magli, an Italian luxury brand with a high-fashion focus on aesthetic expression, to Härkila, a Danish high-end hunting brand with a rigorous commitment to functionality and performance.
With the launch of her own brand, Henriette Øst Hansen is aiming to take the best of both worlds and add her own signature. For her, interesting design occurs when the perfect balance is struck between timeless elegance, functionality and something unexpected.
Speaking of her design vision, she says:
"I like the surprise of something I would not have thought of myself, and hope to spark the same element of surprise in anyone looking at my designs."
Henriette Øst Hansen shoes are originals; every component is constructed from scratch.
Drawing on a rich Italian craft tradition, much careful consideration has gone into creating shoes that deliver extraordinary comfort without ever compromising on style.
All the shoes are handmade by Italian artisans in Tuscany at a small, family-owned factory, where knowledge has been passed on from generation to generation. The last, heel and outsole components themselves are made at various factories across the Tuscan region. The leathers are mainly produced by a luxury tannery outside Milan, which is dedicated to developing tanning processes that are ever more environmentally friendly.
When wearing Henriette Øst Hansen shoes, you will experience the comfort of the special insoles, which offer shock-absorption and also activate muscles and blood circulation to reduce sore and tired feet. All the closed-toe shoes are created using the Bologna construction – a construction type, which provides a flexible forefoot and a soft glove-like feel.